Sanyo Indonesia Open 2001
23-29 July 2001
Bung Karno Stadium, Jakarta

Videos
Results
Indonesia makes a clean sweep in the Indonesia Open
report by Yunas Santhani Azis; photos by Julian Sihombing

29/07/2001 : Indonesia made a clean sweep in the US$170,000 Sanyo Indonesia Open by winning the five titles on offer at the Bung Karno indoor stadium in Jakarta today.

The last time Indonesia become the overall champion was in the 1997 Open in Solo, Central Java.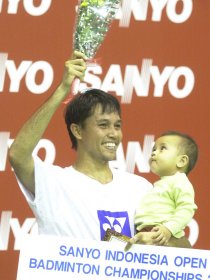 Hosts Indonesia have successfully made a clean sweep on four out of the total 20 championships: in 1983, 1996, 1997 and this year.

Deyana Lomban and Vita Marisa opened the host victory in the women's doubles event, followed by Ellen Angelina in the women's singles, Candra Wijaya and Sigit Budiarto in the men's doubles, Tri Kusharyanto and Emma Ermawati in the mixed doubles and finally Marleve Mainaky in the men's singles.

The 29-year-old Marleve received a tough challenge before he could beat Malaysia's young hopeful Lee Tsuen Seng, 6-8, 7-5, 7-3, 7-3.

The victory has a special meaning for Marleve (pictured with 11-month old son Elwin Yance Putra Mainaky), as it was the first time he had won a five-star grand prix event.

While Lee, who could not free himself from Marleve's pressure during the match, said he was slightly disappointed with the result.

"I've become a finalist twice in the tournaments which have used the new scoring system (Swiss Open and Indonesia Open) but I failed in both events. Of course I'm a little bit disappointed. But I'm still young and I'm sure the time will come when I will be a champion," the 22-year-old said.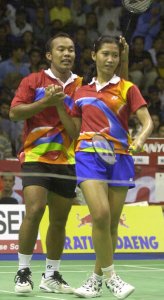 The Danish pair of Ann-Lou Jorgensen and Jane Bramsen failed to become the only European shuttlers to grab a title, bowing out of the women's doubles to host duo of Deyana and Vita in straight games 5-7, 5-7, 3-7.

It was the first title for Deyana and Vita, since they took part in various international tournaments in 1998. Three years ago, Deyana won the similar title at the Indonesia Open, but at that time she paired Eliza Nathanael.

There is no doubt that the Indonesian women were victorious because of the absence of their strong challengers from China and Denmark, such as World Champions Gong Ruina (women's singles), and Gao Ling and Huang Sui (women's doubles), the runners-up of the 2001 World Championships Zhou Mi, Malaysia Open champions Zhang Jiewen and Wei Yili, 2000 Olympic Games gold medallist Gong Zhichao, and Denmark's Camilla Martin.

"The absence of all Chinese shuttlers certainly has a big impact for us," said Deyana, adding that the women's doubles event became less competitive.

She said that she and Vita, who just formed their partnership before the Malaysia Open, would have needed extra energy and better physical strength had the Chinese women's doubles shuttlers participated.

The Danish duo gave a tough resistance in the earlier two games. Jorgensen and Bramsen were leading 1-5, but the table were turned and they then trailed 5-6 before the Indonesians ended it 7-5.

In the third game, Deyana and Vita performed almost perfectly without making any unnecessary errors to win the decider.

"I met Ann-Lou when she still partnered Mette Schjoldager. Ann-Lou and Mette had a good defense but with Jane, Ann-Lou plays more offensively and accurately," said Deyana, who pocketed $10,370 along with Vita.

The Danish pair did not attend the post-match conference after receiving $6,800 in the awards ceremony. They immediately rushed to Soekarno-Hatta international airport in Cengkareng to fly back to their country.

Indonesian Ellen Angelina stunned the home spectators when she overcame top seed Wang Chen of Hong Kong 7-5, 7-3, 5-7, 7-4 in 42 minutes to grab the women's singles title.

For Ellen (pictured), who withdrew from the Indonesian Badminton Centre (PBI) and the national team a few months ago, it was her first title during her career in badminton.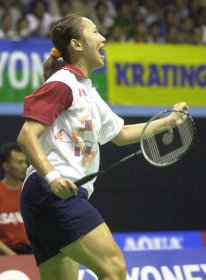 She refused to accredit her success to the absence of Chinese shuttlers.

"We need to work hard to win all the tournaments, although the lady luck also plays a great role in it. There is no difference between fighting the Chinese or the shuttlers from the other country, it depends on us," she explained.

Ellen managed to break into Wang's playing system, which forced the 25-year-old Indonesian to play defensively with high speed. "But she was too hasty while I play loosely without burden," Ellen recalled.

When asked what she would do with her $11,730 of prize money, Ellen said she would use it to finance her participation in international tournaments in the near future. Although she has become a champion now, Ellen ruled out any possibility to return to the PBI in Cipayung, Jakarta, saying that she had signed a sponsorship deal with Gosen racket distributor while the PBI already has a contract with Yonex.

Speaking on her reason for withdrawing from PBI in March, Ellen said: "At that moment, I had already burned out. I always crashed out in the first round in each tournament. So I decided to continue my study. Now I'm studying in some private courses but I keep on playing badminton," she said.

She also admitted that her practicing schedule was less intensive than it was in PBI. She is now coached by Liang Chiu Shia, who used to coach former badminton queen Susi Susanti, who has retired, and Mia Audina, now plays for the Netherlands, when they were all still in PBI.

In the men's doubles event, Indonesian duo Candra Wijaya and Sigit Budiarto proved themselves better than compatriots Tony Gunawan and Halim Haryanto. Candra and Sigit outclassed World Champions Tony and Halim in straight games 7-2, 7-3, 7-5 and earned $12,240.

Candra and Sigit have now won two out of three head-to-head meetings with Tony and Halim, both in tournaments which have used the new scoring system.

The first title this year for Candra and Sigit was in the Japan Open and they repeated their success in the Malaysia Open last week, while Tony and Halim beat Candra and Sigit to win the 2001 All England title. Tony and Halim got their second title in the World Championships.

Tony, who paired Candra when they both won the gold medal in the 2000 Olympics, said that Candra and Sigit were of the better quality.
"We train together every day. I admit that we are outclassed in technical skills, defense and the playing order," said Tony.

Moreover, the tournament used a new scoring system that only requires seven points to end a set. "I make so many errors and in the current system, it means a loss," Halim said.

Tony stayed low profile by saying that their victory in All England was because Candra and Sigit were exhausted after a draining semifinal match earlier. Tony will pair Candra at the Brunei World Grand Prix Finals from Aug. 8, while Sigit will play with Halim.

All the players vowed to beat their rivals to set up a final clash.
Details
---
Page maintained by Stan Bischof (stan@worldbadminton.com) . Last updated: 21 February 2021 08:30